emed Software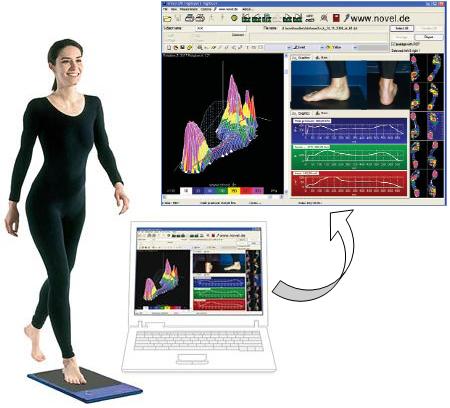 The emed®-x/R recorder software measures dynamic pressure distribution and captures multi-camera video synchronously. No extra video software is required. Video synchronization is made via the microphone input of the camera. The system starts recording automatically when the subject's foot contacts the platform. The synchronized data files are stored in the novel data folder and can be displayed synchronously frame by frame. Also, when data acquisition is started from the novel database, the synchronized data can automatically be stored to the novel database, in addition to the novel data folder.
Several measurements can be compared on the screen simultaneously. Automatic left and right foot recognition makes reviewing and grouping measurements quick and effortless. Multiple measurements can be averaged to create one average pressure picture. Pressure, vertical force, and contact area curves vs. time are displayed. Additionally force-time integral information is provided. 3D dynamic roll-over process can be displayed and rotated together with the gaitline (COP). Foot length and width can be measured on screen with software graphic tools.
The configuration of data collection can be customized. The maximum pressure picture can be printed to scale with pressure values for each sensor element, subject's name and date of measurement. An overview of measurements is displayed on the screen, presented as thumbnail images, for quick access to multiple measurements.
emed Software Chart
R indicates Recorder option which allows for synchronous pressure and digital video recording
HSp denotes high speed option which allows data collection up to 400Hz
HSc indicates high scan which allows a customized measurement area and an increased scan rate

Programs B, D, and E work with older versions of the emed platform such as emed-st
emed-at/emed-m

emed-x

Features

B

D

E

R

E

R

E-HSp

E-HSp/HSc

E-R HSp/HSc

Dynamic and static measurement

•

•

•

•

•

•

•

•

•

Display of each frame in rollover process (ROP)

•

•

•

•

•

•

•

•

•

Maximum pressure picture (MPP)

•

•

•

•

•

•

•

•

•

Display of sensor value for each sensor

•

•

•

•

•

•

•

•

•

Vertical force-time curve

•

•

•

•

•

•

•

•

•

Connection to novel databases

•

•

•

•

•

•

•

•

•

Contact area-time curve

•

•

•

•

•

•

•

•

•

Screen copy

•

•

•

•

•

•

•

•

•

Center of pressure (COP)

•

•

•

•

•

•

•

•

•

Maximum pressure-time curve

•

•

•

•

•

•

•

•

•

1:1 printout of pressure curve

•

•

•

•

•

•

•

•

3D dynamic color display of ROP and MPP

•

•

•

•

•

•

•

•

3-D gaitline and force curve

•

•

•

•

•

•

•

Automatic data storage

•

•

•

•

•

•

•

Integrated overview of measurements

•

•

•

•

•

•

•

Graphical drawing tools

•

•

•

•

•

•

•

Average selected pressure measurements

•

•

•

•

•

•

•

Record and synchronize with digital video

•

•

•

Measure up to 400Hz

•

•

•

Adjust measurement area

•

•

Download Brochures
Brochures

emed systems, (3 mb)


emed-xl, (3 mb)


emed pedography software (1.74 mb)


pedography overview (1.48 mb)


pedography for the diabetic foot (3 mb)

Data Collection Info

emed HowTo data collection guide (100 kb)


emed guide (17 kb)

Specifications

emed-xl specs (120 kb)


emed-x specs (16 kb)


emed-q specs (16 kb)


emed-n specs (16 kb)


emed-c specs (16 kb)


emed-a specs (16 kb)


emed-xl walkway specs (45 kb)


emed-x, -q, -n walkway specs (17 kb)


emed-a, c walkway specs (17 kb)
Other Downloads

Get Acrobat Reader

Download DivX video codec to view our videos