pliance Software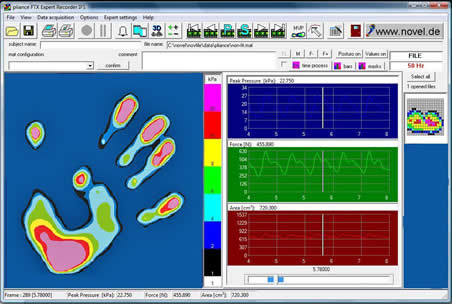 The pliance software works in conjuncture with the pliance-x analyzers and a wide assortment standard and custom novel sensors. The software operates as a Windows application on a laptop, desktop, or various mobile devices and contains many useful methods for fast pressure data collection and display. Flexibility in the display of the real-time pressure pictures and graphs makes the software an ideal tool in a variety of clinical, research, engineering, or education applications. It also allows continuous data storage in online mode and data handling with a configurable SQL database. The user can design the parameter configuration to specific needs and exchange data with colleagues in electronic or printed form.
2D or 3D or isobar display numeric display animation of the pressure data contact phases maximum pressure picture (MPP) center of pressure (COP) force- and pressure-time integral comparison for pre/post difference picture averaged and individual gait lines ASCII output adjustable sampling rate definable regions for calculations links to novel databases automatic data exchange mobile device and PC synchronizes with EMG and video based gait analysis systems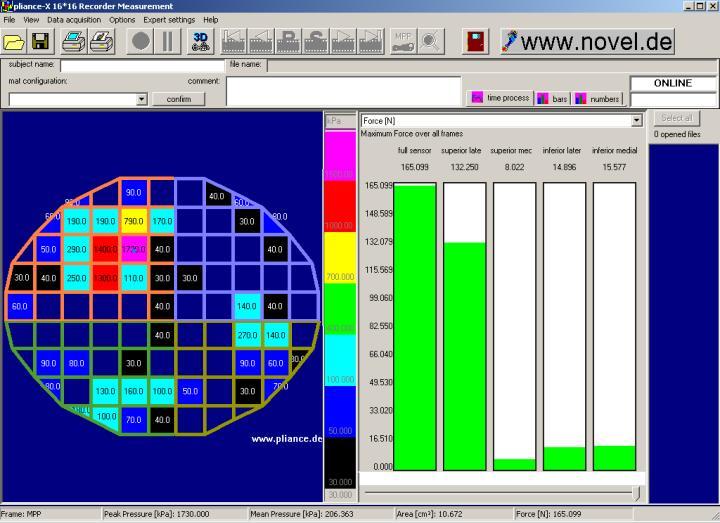 pliance-x Recorder
The pliance recorder software option allows automatic synchronization between the pressure data and digital video collected to the same computer. This provides easy and immediate synchronized playback of the pressure and video data. This is very useful in providing feedback to the patient/subject, or in providing a reference to the activity being collected. novel player software can be used with these synchronized files to create a video file (avi) of the pressure, video, EMG, etc. that can be played in a PC's media player.
Click here to learn more.

manugraphy software
The manugraphy software provides the user with a fast and extensive analysis of the patientís hand function. The software provides real-time display of the data for biofeedback training. Audio instructions are available and can lead the patient through the grip testing process providing means to create a standardized testing procedure. With a 2D or 3D view of the local forces, the user is able to carry out a functional analysis of the both hand and fingers. By partitioning the measurement area into subareas for each finger and the palm of the hand, it is possible to accurately indicate the gripping force in the particular areas throughout the measurement time. Therefore the user can assess the functional characterization of the hand and evaluate any therapeutic improvements in the patientís hand function.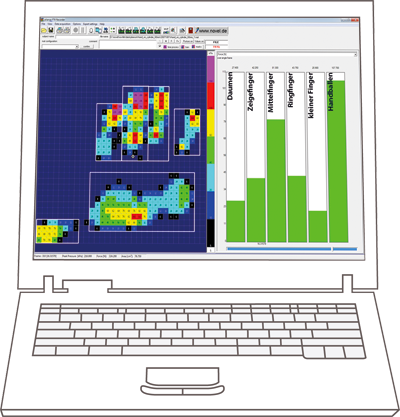 Download Brochures

pliance sensors (2.11 mb)


pliance manugraphy (3.66 mb)


pliance prothesis (3.5 mb)


pliance saddle (4 mb)


pliance wheelchair (2 mb)


pliance tire (800 KB)


pliance FTM (692 KB)



Get Acrobat Reader

Download DivX video codec to view our videos